What's in this box?
Something new for the vegetable garden in 2021. Something mysterious and dangerous, and not for the faint-hearted in terms of growing (and eating later).
Yes, the Jerusalem Artichokes have finally arrived, quite damp in their plastic bag. Although they should not be allowed to dry out, I thought 24 hours separated out and covered with brown paper would not do any harm. Here are the instructions for planting that came with them – no help at all.
But . . .
The RHS describes Jerusalem artichokes thus:
This statuesque plant is a relative of the sunflower. Although it boasts attractive yellow flowers perched on 3m (10ft) stems, it is mainly grown for its below-ground tubers that can be cooked or eaten raw. Needing plenty of space to grow, this perennial is ideal when planted as a windbreak or screen.

Jerusalem artichokes are persistent, so if you don't want them coming back the following year, make sure you remove every last one – tubers left in the ground will regrow into a large plant the following spring.

The RHS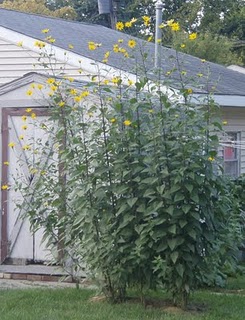 Oops! Not ideal for growing in a very small garden or in the allotment bed; but I have a cunning plan: Growing bags! I am, after all, only growing FIVE 'chokes' – one per bag – with the other five/six going to my brother. These are 'Fuseau' – a large, smooth skinned variety that is easy to peel.
One tuber can produce twenty!
I've never eaten them, and I know they have a reputation for making you 'windy'. Jerusalem artichokes are native to North America, not the Middle East as their name might suggest; this is a corruption of the Italian word "girasole" meaning turning toward the sun, or sunflower. They are also known as Sunchokes, Sunroots or Earth Apples.
Alys Fowler recommends getting your body used to eating them by starting with a few a week and building up to as many as you can manage without exploding. The RHS suggests Nigel Slater's recipe for Artichoke soup with ginger and walnuts.
Health Benefits
The tubers are potato-like, but the carbohydrate present is inulin* rather than starch, when eaten, inulin is converted in the body to fructose rather than glucose, which can be tolerated by diabetics.
They taste similar to water chestnuts or a nutty potato. They can be eaten raw in salads, sautéed in a little butter, roasted, mashed etc.
Jerusalem artichokes are rich in iron (to give you energy), contain potassium and vitamin B1 (which support your muscles and nerves). Although they're sweet, their starchy fibre stops any spikes in blood sugar levels – they have a lower glycemic index (GI) than potatoes – and they aren't fattening.
*Inulin is considered a pro-biotic and this is what can cause bloating and wind. Always do your research before trying a new food.