There have been some gorgeous sunrises recently; the featured image above is from Tuesday morning.
Today, as throughout the week, thoughts are with the people of Tonga, and all those affected by last week's eruption and subsequent tsunami. The pressure wave that followed was recorded here in the UK – a peak in the graph as it approached from the North (after passing over the North Pole) followed some hours later by a 'trough' from the longer route over the South Pole.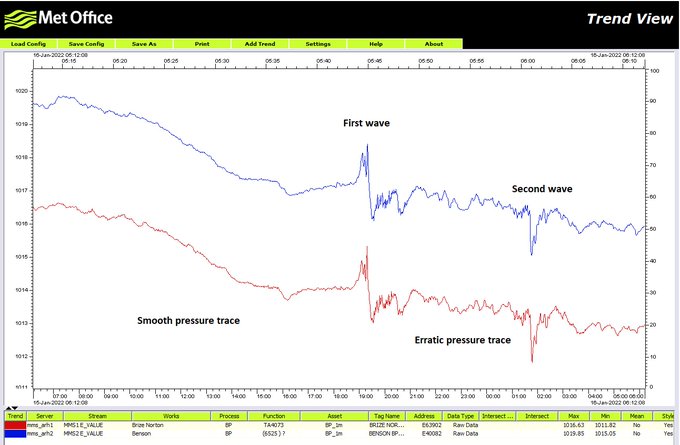 Current thinking is the eruption may mean a cooler summer for Europe, and an increase in spectacular sunsets over the next weeks.
Looking for some light in the darkness, aka Six on Saturday, I offer this small celebration of nature for your perusal.
Hellebore 'Christmas Carol' looks much better since I removed the old leaves, though after two years, I had hoped it would be more impressive than it is.
Autumn Joy has lots of new growth. Probably the three plants I have growing in the Lavender Border could benefit from being dug out and split – that will be a job for warmer weather, before the lavenders grow too high.
My birthday pot of 'Minnow' narcissi have shooted. Yay! I have brought them indoors onto my study windowsill, where I can watch them growin – each day, a little taller.
I'm hoping these are iris reticulata 'Joyce' poking their noses above the compost/gravel. I'm also hoping there are a lot more of them than when they were planted in December 2019.
Snowdrops and white fritillery – well that's what I planted, but who knows? Those smaller leaves might be something else – probably hairy bittercress! But I daren't remove them yet.
Winter purslane (in a pot after a 'wintry shower'.
In other news . . .
I've taken the plunge and ordered three dahlias and three chrysanthemums from King's Seeds, which are due to arrive 'from March'.
Dahlia 'Fancy Pants'
and Chrysanthemum 'Snowdrift'.